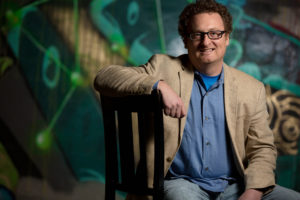 In my experience working with entrepreneurs, executive directors, and executive teams, "marketing" means a lot of different things to a lot of different people.
To some, marketing is a term used to describe advertising efforts. To others, marketing is branding assets including logos, business cards, and promotional materials. For many, marketing is associated primarily with sales related activities. Rather than challenge these descriptions of marketing, I want to clarify my description as a professor of marketing.
Marketing is simply a way to connect prospects with products and services. That's it.
But while we're at it …
Sales is simply a way to exchange value between a buyer and a seller. And branding is simply establishing perceptions people have of products, services, and other people or organizations. To further clarify and simplify: marketing is connecting, sales is exchanging value, and branding is establishing perceptions.
At this point in the blog you might be thinking that connecting, exchanging value, and establishing perceptions are the three fundamentals of marketing – you would be wrong.
The three fundamentals of marketing are strategy, content, and traffic.
Strategy is your plan to win. Content is your story. Traffic is your audience.
Marketing must be thought of in terms of wins and losses– connections made and connections lost. If you're like the vast majority of people I work with, this is the first flaw in your understanding of marketing. It's unbelievable how many people are spending thousands on "marketing" without a strategy and worse without measuring success at all. Unfathomable, unbelievable, but unfortunately true.
You must have a strategy first and foremost for your marketing efforts to be successful!
Content is king. Yes, that is true but it's not marketing unless it's YOUR content. I am so sick of the aimless, mindless, and pointless content that I see supposed professionals in marketing create for their clients. It's a waste of time, money, and resources and it's not marketing. This is the next biggest flaw in your understanding of marketing. Content alone is not marketing and will not connect with your prospects.
Your story is the only content that will connect prospects to your product or service.
If content is king, traffic is your realm of possibilities. In marketing terms, it's potential prospects (in kingly terms: unworthy peasants). This is the last flaw in your understanding of marketing. Traffic does not equal prospects. No matter how many google leads you buy, SEO positions you own, or likes you have on facebook; it doesn't matter if the wrong people show up. But, when is the last time you even defined the right people? Who do you want in your realm? What are their demographics, psychographics; wants and needs; and desire to connect with you?
You must know who your target prospect is before building valuable traffic to connect.
I write this blog in hopes your understanding of marketing will be improved and you'll want to connect with me. If you're interested in discussing how Frost Media Group can assist you in connecting more with prospects using our video solutions and creative strategies, please contact me at joseph@frostmediagroup.com.
Now, go find your prospects, share your story, and plan to win!