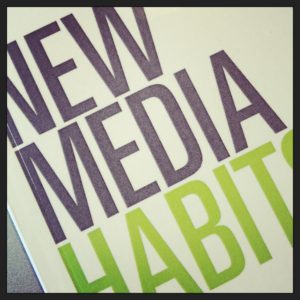 A few years ago when I began writing the book, New Media Habits, I wanted to share the fundamentals of social media; fundamentals I had learned while exploring the new media. I wanted to teach people the difference between new media and traditional media, share some of the new media tools I found valuable, and give readers a simple template to build their own strategy for success. In my book, I clearly define what new media success is (GripItROI), and provide a method to achieve it (Mastering the 13 Habits).
Today as I look at the contents of the book, I am more convinced than ever that it is truly a Fundamental Guide to Social Media. The 3 Pillars of new media are still Strategy, Content, and Traffic. The habits contained in each pillar still need mastered in order to achieve success. The 3 orders of ROI are more relevant than ever.
Engagement is still a false indicator of success; it's the reactions of interest that are the real ROI, and everything else is just hype.
Yet, I feel the need to revisit aspects of the book that need updating (e.g. tools), enhance the discussion surrounding the 13 habits, and dive deeper into the concept of GripItROI with case studies.
Since I wrote my book, I began teaching entrepreneurship and marketing at Midland University for the Hybrid MBA Program. I have also refocused my company Frost Media Group from an "agency alternative" offering just about anyone creative services to a "video marketing agency" focused squarely on video production and creative strategies for nonprofits and SMB entrepreneurs. Thus, my decision to revisit the book is not to market my Social Media or New Media outsourcing services but rather to continue to teach, share, and give my readers and clients simple templates and strategies to truly achieve new media success.
I plan to release a new e-book that will serve as a companion piece to my original book, New Media Habits. The e-book will be interactive, thus allowing for ongoing updates to it from updates to the NewMediaHabits.com website. In addition, the website will include a complete digital archive of hundreds of how to action plans for Mastering the 13 New Media Habits. Over the next several weeks I will be releasing portions of the e-book on my Frost Media Group blog. These blogs will focus on marketing fundamentals and their relationship to the 13 New Media Habits.
Stay tuned, there may even be a few One Minute Videos!