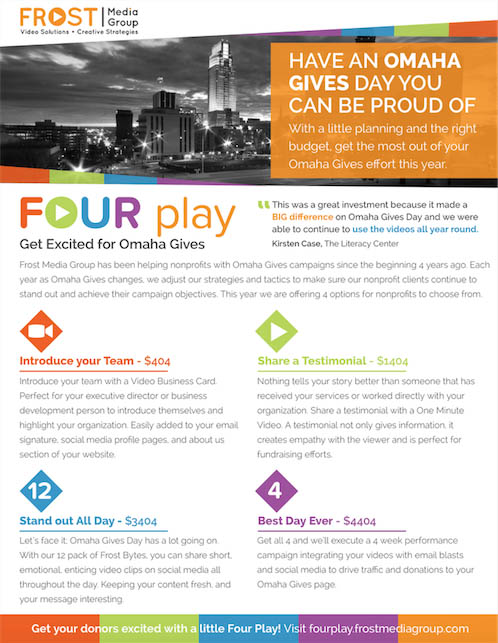 Omaha Gives! Day is just around the corner on May 25th. Omaha Gives! Is a 24-hour online giving event organized by the Omaha Community Foundation to grow philanthropy in Douglas, Sarpy and Pottawattamie counties. The goal is to inspire the community to come together for 24 hours to give as much possible to support the work of public 501c3 non-profits in the metro area.
Last year, more than 20,000 people raised $8.8 million for 704 area nonprofits in just one day. Frost Media Group, an Omaha video production company, wanted to help area non-profits capitalize on this amazing fundraising opportunity. Because there are so many non-profit competing for donations on one day, it's important that your organization stand out. Video is an excellent way to introduce potential donors to your staff, tell them about your mission, and encourage them to support your organization on May 25th.
With our new 'Four Play' package options, we can assist non-profits in four different ways. Testimonial videos are the perfect way to show potential donors the impact you have on the community.
Video Business Cards can shine a light on your hardworking staff and can be used for a number of other reasons, such as on email signatures, long after Omaha Gives! Day passes.
Frost Bytes (mini videos) are also excellent to use on social media and in email campaigns as their short duration and targeted message can quickly and easily get your message across.
Full integrated campaigns are also available for those non-profits ready to make a big splash on this exciting day.
We love working with non-profits and know that many of them rely on donations to ensure they can continue their missions and make our community a better place. With some video assistance, non-profits can potentially raise a large portion of their fundraising goals in just one day. We're excited to share these options with interested non-profits and show them the power of video.
Frost Media Group is an Omaha video production company. In our content-saturated, short-attention-span world, breaking through and resonating with your audience is not easy.
However, when it comes to telling your story and sharing it with your audience, there is no tool like video. Through video, you can convey a compelling account of who you are, what you do, what you stand for, and why your audience should care. Through video, you can create an emotional connection to your business, brand, or nonprofit. And emotional connections inspire action.
We are Frost Media Group. We are a video production and video marketing company that produces and distributes video that breaks through. Video that resonates. Video with a purpose. Whatever your story, whatever your message, we will find a strategic, creative way to express it to the world.
Related posts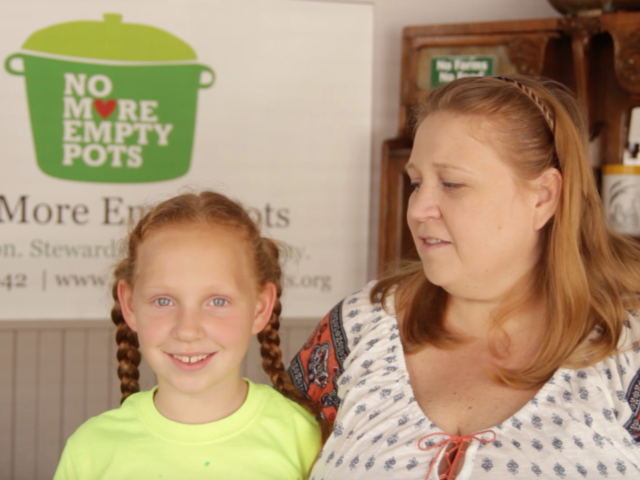 As we find ourselves on the eve of Omaha Gives Day 2016, Frost Media Group, an Omaha video production company, could ...