About Us Video
Every year, Frost Media Group in Omaha works with numerous nonprofits who are doing fantastic work throughout our community.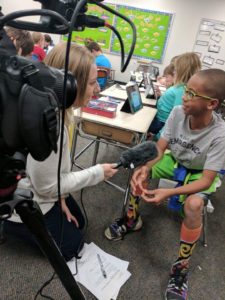 So much that they find it hard to explain what it is that they do to those who could potentially help further their cause.
Recently, we worked with Millard Public Schools Foundation to create a video that shared their mission and programming.
Their mission is to further the Millard Public Schools' mission by guaranteeing sustainable resources and supporting the community we serve.
They do this through their early college program at Millard South high school and supporting technology efforts by providing laptops and iPads in elementary and high schools.
Not to mention programs like Kids Network.
We enjoyed visiting several Millard Schools and the University of Nebraska at Omaha campus. From elementary to college, MPSF is helping prepare youth for a bright future.
Video is a great tool to convey your nonprofit's message, check out Millard Public Schools Foundation's video below.
Frost Media Group is an Omaha video production company. In our content-saturated, short-attention-span world, breaking through and resonating with your audience is not easy.
However, when it comes to telling your story and sharing it with your audience, there is no tool like video. Through video, you can convey a compelling account of who you are, what you do, what you stand for, and why your audience should care. Through video, you can create an emotional connection to your business, brand, or nonprofit. And emotional connections inspire action.
We are Frost Media Group. We are a video production and video marketing company that produces and distributes video that breaks through. Video that resonates. Video with a purpose. Whatever your story, whatever your message, we will find a strategic, creative way to express it to the world.